Student Program
What is the Student Program?
The Student Program at the ARPA-E Energy Innovation Summit is a unique opportunity for student energy leaders to engage with companies looking for new talent, as well as learn about new energy initiatives. The graduate-level students selected to participate in the Student Program receive complimentary registration to attend the Summit, participate in student-focused panel sessions, and network with corporate recruiters.
Who participates in the Student Program?
We expect a diverse mix of technical, scientific, business, and policy students from top institutions, who are energy leaders on their campuses and have the goal of transitioning to a professional career in the energy sector.
How do I apply to the Student Program and what information will be needed?
Admission to the Student Program is restricted to graduate-level students at accredited institutions.
What is included in a Student Program Registration?
Accepted students will receive a complimentary student registration pass to the Summit.
What are the application due dates and when would I be notified of acceptance?
Application Period Closed:
January 6, 2023 at 11:59p.m. EST
Students will be notified of application decisions:
Beginning January 25, 2023
If accepted, Students must confirm participation by:
January 31, 2023
How can my company participate in the Student Program?
For companies interested in the Student Program, participation is at
no additional cost
to your Summit registration. Participating companies will receive a digital resume book in advance of the Summit with the resumes of Student Program participants. Participating companies will also have the ablility to network with students during a networking event. An email will be sent to all Summit registered companies in the spring of 2023 with more information on how to participate.
ARPA-E STUDENT PITCHES
PROPOSING IDEAS FOR TECHNOLOGIES THAT CAN HARNESS ENERGY SUSTAINABLY (PITCHES)
Do you have a potentially disruptive energy technology idea? Do you find yourself often drawing schematics and brainstorming ways that a process could be done better? Do you wish you had the opportunity to share these ideas with a broader audience? Do you want to improve your pitching skills? Have you watched the ARPA-E Fast Pitches from previous Summits and felt inspired? Good news! ARPA-E wants to hear from you at the 2023 ARPA-E Energy Innovation Summit!
Accepted student attendees are invited to submit their ideas to the ARPA-E Student PITCHES session. Selected students will prepare a five-minute pitch summarizing their innovative energy technology idea and present it to an audience of their peers and a panel of industry representatives. The panel will provide feedback and ask students questions . PITCHES is an excellent opportunity for students to showcase new ideas in a semi-formal setting and receive feedback from experts. The student PITCHES session is widely attended and was one of the most popular events at the Summit last year!

Students interested in participating in the Student PITCHES session are invited to submit a written proposal by
Thursday, February 16, 2023, at 11:59 PM EDT
according to the following format (detailed below). The application portal will open on February 1 and a link for submitting a pitch proposal will be provided to accepted student attendees. Submitted ideas will be reviewed and selected students will be invited to present a pitch at the Summit. Ideas will be evaluated based on communication style, novelty, technical depth, and potential impact. Selection notifications will be sent starting
February 24, 2023
. In preparation for the PITCHES session, selected students will be required to attend a webinar on
Tuesday, February 28, 2023, at 5 PM EDT
, where current ARPA-E Fellows will provide tips on best practices for structuring and delivering a pitch. Leading up to the Summit, students will also receive help practicing and refining their pitch. The student PITCHES session will be on
Thursday, March 23, 2023
. We look forward to hearing your ideas!
PITCHES Application Format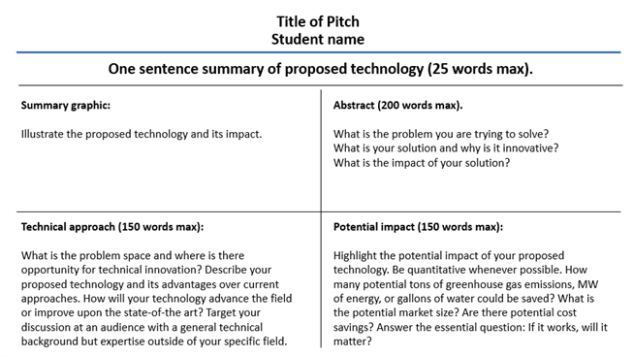 The above slide shows the required application components. All applications must include the following:
1) Title of pitch
2) Student name
3) One sentence summary of the proposed technology (25 words max)
4) Graphic summarizing the proposed technology (or idea) & its impact
5) Text abstract (200 words max)
6) Description of technical approach (150 words max)
7) Description of potential impact (150 words max)
PITCHES PEER MENTOR
Want to be involved in PITCHES but don't have an innovative idea to present? Apply to be a PITCHES peer mentor! Peer mentors are student program attendees who will help selected Student Pitchers prepare and polish their pitches in the weeks leading up to the Summit.
The PITCHES peer mentor application will open on February 3, 2023, and applications are due by 11:59 p.m. EST on Thursday, February 16, 2023.
All Student Pitchers and peer mentors are expected to attend the PITCHES webinar on February 28, 2023, at 5:00 p.m. EST. Peer mentors are expected to spend one hour per week assisting pitchers in the three weeks leading up to the Summit. Pitchers are expected to spend at least two hours per week on pitch prep leading up to the Summit (one hour per week with Fellows from ARPA-E and one hour per week with peer mentors).