Keynote Speaker Andrew L. Ott
President & CEO, PJM Interconnection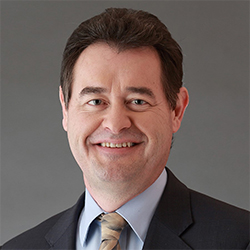 As president and chief executive officer,
Mr. Ott
oversees the largest power grid in North America and the largest electricity market in the world. Mr. Ott, a 21-year veteran with PJM, became the CEO in October of 2015. He also serves as a PJM Board member.
Mr. Ott was responsible for design and implementation of the PJM wholesale electricity markets. He has extensive experience in power system engineering, transmission planning, applied mathematics, electricity market design and implementation. Mr. Ott is internationally recognized as an expert in electricity market design.
Mr. Ott serves on the Board of GO 15 which is a voluntary initiative of the world's 18 largest power grid operators representing more than 70 percent of the world's electricity demand and providing electricity to 3.4 billion consumers on six continents. He also serves on the Boards of Association of Edison Illuminating Companies and the Chamber of Commerce for Greater Philadelphia. Mr. Ott is an IEEE Fellow and a CIGRE Honorary member.